** WE HAVE A WINNER! THE LUCKY KNITTER IS #5 - JKNITS51 ON RAVELRY **
** THANKS TO EVERYONE WHO ENTERED. SEE YOU NEXT TIME! **
Today's book review includes an interview with the author and a giveaway.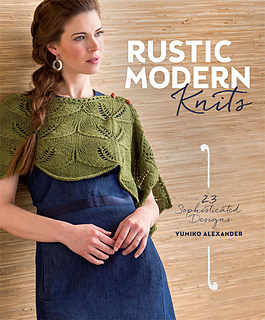 By Yumiko Alexander
Interweave/F+W; $24.99
Just want to enter the giveaway? Post your comment here on the blog to enter, and
please include contact information
– an email or a Ravelry ID.
Tell us why you want to win the book. That's it.
Drawing will take place on May 7th.
I had previously seen Yumiko's designs at Stitches West, and was impressed with the originality of her work. In the book, the Japanese influence made the designs just a bit different from the everyday. They are functional and fashionable, yet not the pieces you'll find everywhere in clothing stores. A few of my faves:
with permission Interweave/F+W
Wisteria
– loose unstructured vest, in sport weight yarn.
Garden path
– chunky scarf, crescent
shape.
Lotus Lace – in worsted weight
(cover picture)
To be honest, there were a few pieces I didn't care for, but this just shows that the designer isn't playing safe – she takes risks.
Here is an interview with the author, Yumiko Alexander.

1.

What led you to publish this book?
I published the Rustic Modern Knits book with Interweave for several reasons. I love sharing my designs with people and books are a great way to reach a large audience. Interweave is a great company and produces quality work and has a large customer base. I also published Rustic Modern Crochet with Interweave the year before.
2.

How would you describe your style?
Many people have said my style is a combination of Japanese and American. I don't really think about the culture when designing. I know my designs contain simple shapes with fan knitted/crocheted fabric that combined some stitch patterns.
3.

What makes a design work?
I think it needs to be unique. A useful, functional and stylist design that can't be found in everyday clothing stores.
The combinations of stitch patterns make attractive garments and keeps knitter's interests and enjoyment while creating their unique piece.
4.

What is your process like; i.e. what steps do you follow to create a design?
My design ideas come from what I want in my closet.
I keep notes on what I would like to wear and ideas of interesting shapes. I usually think what style/shape of garment I want to make, then I start swatching. This part of the process takes most of the time. The swatching process helps me identify what stitch pattern I want to use. Usually the yarn tells me how it wants to be worked. While I am knitting, I get more ideas of what I want to add/change to the design.
5.

How do you know when a design will be successful, or do you ever know?
I wish I could predict what will be successful. After designs are published, I am often surprised with which designs are most popular.
6.

Which are some of your favorite designs - ones you're just in love with?
"Japanese Lantern" (in Rustic Modern Knits)
"Sands and Shells" (In Rustic Modern Crochet)
"Mesa" (in individual pattern)
7.

Finally, what are you working on right now that has you excited?
Most of my designs are worked in heavier weight than Sport weight/DK weight yarn. This year, I have been trying to make designs with lighter weight yarn. I am also making a few designs with Tencel fiber which I have not used in the past.
To recap, if you'd like to win a copy of Rustic Modern Knits, please comment here on the blog. Don't forget your contact information!
Thanks to Interweave/F+W for the review copy of the book.