*** Winner of the Giveaway is Rachel McKinney ****
If you read Interweave Knits magazine, or have browsed through some Interweave books, some of these patterns might seem familiar. But that doesn't matter, because the editors have done a great job of collecting a wide variety of techniques and shapes and skill levels, so that anyone who wants to knit a shawl will find several items to please them.
The Collection includes different shapes, a variety of yarns, and various construction methods. Some are lacy, some are striped, some are in garter stitch.
If you've always wanted to try a different shape from the classic triangle shape, you will find plenty of options here. There are classic Shetland shawls, new modern styles and shapes, and some that don't feature lace at all. Truly there is something for everyone.
Here are a few that I really enjoyed looking at:

Grand Army Plaza shawl by Melissa Wehrle

This one is a lovely crescent shape with plenty of open lace work. It looks very drapey and easy to wear.
The Galax shawl has a wide curved shape with a sideways edging. It's the one on the cover.
It's also very pretty and I think can be very versatile in the way you wear it - draped around the shoulders to form a shape that looks like a cowl, or hanging down.
There is one shawl that doesn't use lace – instead it's adorned with cables.

It's called The Return Journey Shawl. If you're not so fond of lace, this one has a beautiful cable design to provide the interest. It's a very gentle triangle shape that looks really good worn a number of different ways.
Another one I liked was the Lale Shawl. This one is worked in DK weight yarn, so it's more substantial and a quicker knit than some of the others. It features a pretty lace trim.
This book is perfect for someone who loves to knit shawls and wants to try something different. There are plenty of options and loads of new techniques to try.
Interweave has done its usual good job with beautiful photography, comprehensive and clear instructions for special stitches or techniques, and a very appealing layout.
If you are a shawl lover, you will enjoy this book.
Disclosure: I received a review copy of this book from F+W Media.
Now for the giveaway information. If you post a comment on this blog entry stating which pattern is your favorite,
and sign up for my newsletter
, you will be entered into a giveaway to win your own copy of this book, plus I might just throw in a skein of beautiful yarn from my large stash.
Be sure to give a Ravelry ID, or an email address -- or even your Instagram handle will do -- so that if you win I have a way to contact you!
Don't forget
!
I will select a name in 2 weeks time, on July 24.
Project Bags!
I have to show my latest bag, for sale in my
Etsy shop.
The Medium sized (or Large) Project bag is made from high quality fabric from the famous
Marimekko fabric
company. I bought this fabric myself to make drapes and I had leftover fabric :-)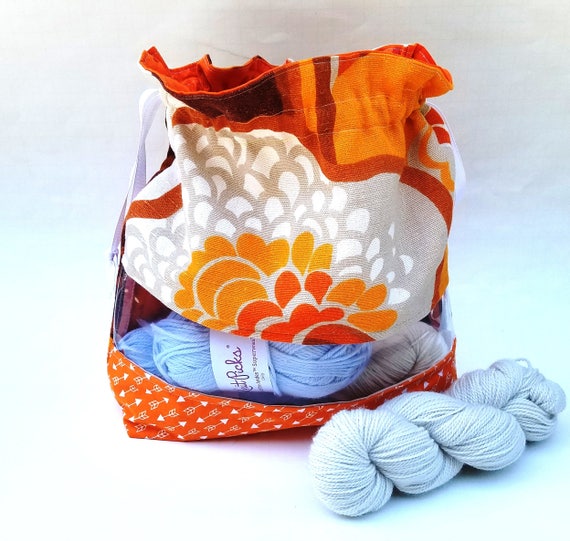 Choose Drawstring or Zipper style
This bag is designed with your hectic life in mind. It lets you knit wherever you are: as a passenger in the car, on a plane, in a doctor's waiting room - anywhere. It easily holds up 4 full 100g balls of yarn (Medium) or 7 balls (Large), plus your work in progress.
The convenient size holds most small and medium sized projects - or large projects, with the Large size bag. It has interfacing for firmness so the bag stands up nicely.
Treat yourself to something durable, convenient and pretty. You'll enjoy the beautiful print as you work away with this attractive bag.
Perfect for gifts, travel, and many other uses!
Protect your work from pets, dust, and kids.
For a limited time, use code GOODSTUFF5 to get $5.00 off your purchase.
That's all for today! See you all next time.
P.S. Don't forget to sign up for my newsletter to stay informed of future giveaways, knitting tips, test knits, and pattern news.