First,
Today's Tip:
I found a great blog post from
Sweet Georgia Yarns
on
Yarn Substitution
: what to do when you can't, or don't want to, use the yarn that the pattern calls for.
Either that yarn isn't available to you, or due to allergies and other sensitivities it cannot be used.
So if you find yourself having to go with a different yarn than what the pattern calls for, you should try to find a balance between the many different but interacting variables. It may sound intimidating, but in reality all you need is just good old common sense paired with a few basic facts about yarn and fiber characteristics.
Gauge, texture, and yardage are discussed. It's a really illuminating article!
Giveaway!
I have a great giveaway for this month. The new
Knit Picks Bulky Collection
, published in late 2013, is full of quick and easy cozy knits, perfect for winter and spring weather.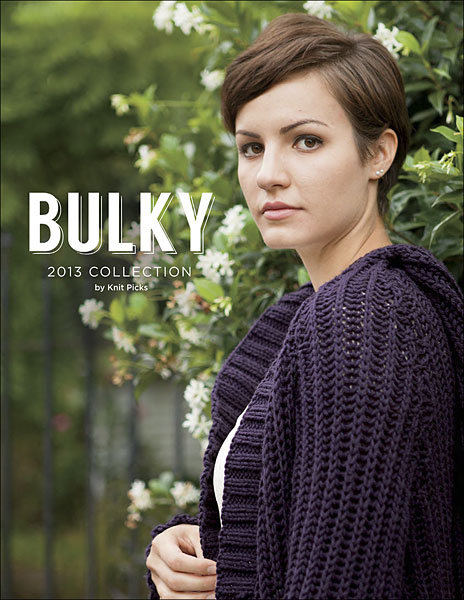 It includes sweaters and accessories -- you're sure to find something you like. These oh-so-satisfying large gauge yarns hold a special space in every knitter's stash. And not just for instant gratification wow, but also for their keen ability to transform simple textures, cables and motifs to striking designs. The Bulky 2013 collection revels in these details that highlight the qualities of bulky yarns, all while showcasing a versatile mix of dramatic shapes and sleek silhouettes alongside easy-to-wear garments and accessories.
My own
Bryant Park Vest
is in the collection.
How to enter:
Please sign up for my monthly newsletter (upper right side of this blog). I promise to work at making it useful and interesting, not just a sales pitch; for example, every issue has one or more Tips and Tricks AND,
Write a comment on the blog about one of the designs in the collection – why you like it, why you would knit it, whom you would knit it for, etc. Please include an email address or Ravelry ID so I can reach you!
That's it! If you are already signed up for the newsletter, that's fine, you don't have to sign up again.
Deadline is Feb 15, 2014.
Coupon Code!
From now until Feb 28, 2014, I'm offering
60% off
all hat or hat and mitt sets.
See my designs here.
The code is HALOS in honor of
Halos of Hope
, an organization that provides hats for chemo patients -- a great cause! You can knit hats for them (hats are being collected at Stitches West, and several yarn stores) or donate money to help with postage costs.
See you next time with a book review, and more tips and goodies.